Donating Through the Furniture Bank Is Quick, Effortless, and Impactful.
Review Furniture
Check the furniture you want to donate to make sure it meets our donation standards.
Request a Pickup
Request a pick-up here or give us a call at 614-545-3838.
Confirm Pickup Details
We will contact you to confirm a pickup date. You'll also answer a few quick questions about your furniture as we pride ourselves on giving quality furniture to those in need.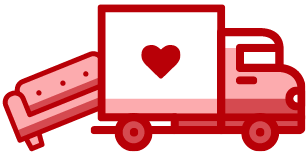 Sit Back & Relax
On pick up day, our movers will arrive and do the heavy lifting!
What Can You Donate?
If it's in your home, chances are we can take it. To qualify for a pickup, you must have an essential item- box spring, chairs, couches dressers, tables, mattress or a large appliance- marked with an asterisk below. Dropoffs are always welcomed at our warehouse in Franklinton during select hours.
Bedroom
Mattresses *
Box Springs *
Bed Frames (No platform, waterbed or captains beds)
Dressers *
Nightstands
Small Desks (Up to 4′ wide)
Sheets
Blankets
Pillows
Kitchen & Dining
Kitchen and Dining Tables (no glass tops) *
Chairs *
Bar Stools
Refrigerators and Stoves (Up to 15 years old) *
Small Kitchen Appliances (Toasters, Coffee Pots, Crock Pots, etc)
Table Linens
Glassware
Dishes
Pots and Pans
Silverware
Living Room
Sofas *
Love Seats *
Stuffed Chairs *
Coffee Tables
Ottomans
Lamps
Wall Art
TVs (no old tube or projection units, must be cable ready and 32″ or smaller)
TV Stands / Entertainment Centers (not to exceed 4′ W X 6′ H)
Bookcases (not to exceed 4′ W X 6′ H)
Cabinets
Appliances & Electronics
Refrigerators (15 years old or newer) *
Ovens/Stoves (15 years old or newer) *
Washers & Dryers (Electric Only) *
Coffee Pots
Radios & TVs
No Built-In Items
Home Goods
Sheets
Blankets
Pillows
Plates
Glassware
Dishes
Pots & Pans
Table Linens
Home Décor & Home Storage
Wall Art
Lamps
Bookshelves
Storage Bins
China Cabinets (not to exceed 4′ W X 6′ H)
Other Items
Clothing and Accessories
Sports Equipment
Books
Magazines
DVDs
Tapes
Board Games
Puzzles
Knickknacks
Jewelry
Crafts
Candles
Picture Frames
Baskets
Tools
and most other household items!
* Essential Items – at least one essential item is required for pickup.
If it's in your home, chances are we can take it. However, we pride ourselves on giving good furniture to those in need. That means:
No rips, tears, stains, or tape patches in the fabric
No pet hair or pet stains embedded in the fibers
No bed bugs, fleas, cockroaches, or evidence of mice or other rodents
No recalled or damaged items
Appliances must be working, with all parts, and must be clean
Items we do not accept:
Cribs
Car seats
High chairs or changing tables
Waterbeds
Platform beds
Captain's beds
Trundle beds
Adjustable beds
Hospital beds
Large or metal desks
Filing cabinets (metal)
Office cubicles
Walkers or medical equipment
Dishwashers or other built-in appliances
Liquids
Pianos and organs
Firearms or firearm accessories
Please ensure your furniture meets the above criteria before requesting a donation. All good?
Who Will Your Furniture Help?
The Furniture Bank works directly with government and social service agencies and faith-based organizations
3,500 Families Served Per Year – families represent more than 57% of the clients we serve.
10,000 People Impacted Yearly counting children and family members who live with the recipient of furniture.
26% Are Previously Homeless or are escaping homelessness
87% Live on Less than $18,000/year
94% Live on Less Than $24,000/year
Moving or Relocating? Considering Downsizing to Make Life Easier?
We can help with everything from organizing, to packing, to getting rid of that furniture you don't want to take with you.
Have a Question?
View below for short responses to the most frequently asked questions. Have a question we haven't answered? Give us a call (614.545.3838) to discuss.
Yes, there are a few items that we will not accept. These items include the following:

Waterbeds, platform beds, captain's beds, trundle beds, adjustable beds, or hospital beds
Glass top kitchen tables
Large (greater than 4ft long) desks, metal desks, and metal filing cabinets or office cubicles,
Cribs, high chairs, or changing tables
Dishwashers or other build in appliances
Walkers or medical equipment,
Liquids
Pianos and organs,
Firearms or firearm accessories

We reserve the right to refuse any item deemed unsuitable for our clients.

Yes, we offer additional services for quicker pick-ups and locations outside of Central Ohio. To inquire, please call us at 614.545.3838.

Yes. The Furniture Bank is a registered 501(c)(3) non-profit organization. We will provide a tax receipt at the time of pickup. Please consult with your tax professional for deduction details.

Pickups are scheduled by zip code and filled on a first come first serve basis. Our average wait time is between 1-2 weeks.

You will be given a three hour window for a pickup time prior to your scheduled pick up date.