Communication & Development ShareCorps VISTA Member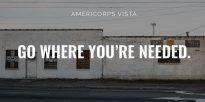 The Furniture Bank of Central Ohio is hiring a full time Communication & Development AmeriCorps VISTA Member through the Ohio Association of Foodbanks ShareCorps program.
What is AmeriCorps VISTA? From the AmeriCorps VISTA website: "AmeriCorps VISTA (Volunteers in Service to America) members bring their passion and perseverance where the need is greatest: to organizations that help eradicate poverty. The most pressing challenges we face as a nation require the most courageous and creative people to address them. An AmeriCorps VISTA member serves as a catalyst for change, living and working alongside community members to advance local solutions."
You're Needed at the Furniture Bank of Central Ohio: Due to poverty and severe life challenges, families are living in unfurnished or sparsely populated homes. The Furniture Bank of Central Ohio turns their empty house into a home by providing a essential furniture and household items- beds, tables, chairs, linens, dishes and pots and pans.
What We Do: The Furniture Bank of Central Ohio is a unique and collaborative organization that provides furniture to central Ohio families and individuals in poverty and struggling with severe life challenges so that they can improve their lives. It started twenty years ago with one man with a truck in a church basement and has grown to serving an average of 3,900 families a year. The Furniture Bank picks up gently used furniture, mattresses and household items then works with dozens of nonprofits, churches and social service agencies to help families living in poverty. Families visit the Furniture Bank to pick out 10 to 20 pieces of furniture- beds, dressers, tables, chairs and other household items at our one-stop shop warehouse, then have their furniture delivered the same day. The Furniture Bank of Central Ohio is one of the largest furniture banks in the country, and works with 9,000 donors, 2,000 volunteers, 3,900 client families and more than 100 referring agencies each year. The Furniture Bank of Central Ohio operates two social enterprises- the Furniture with a Heart thrift store and Downsize with a Heart, a downsizing and moving business.
How You'll Help: The Communication & Development VISTA Member will expand current communications and fundraising efforts by increasing communications with individuals, families, businesses, and other supporters. Increase engagement from these audiences through our peer to peer Bed Race fundraising event, annual gala, household good drives, off-site special donation collections, and relationships with existing retailers. They will also support the development and communications team by assisting with direct mailings, newsletters, grant reports and applications, and marketing materials. This is an opportunity to come in, get creative, identify new projects, and make real changes in our organization.

Make sure to apply on the my.americorps.gov website using the button above by April 13th. No other applications will be accepted except through my.americorps.gov.