We Help 23 Families Every Day.
Working with other local agencies, we help families affected by homelessness, domestic violence, and other crises. To keep pace with the need, our furniture showroom changes over every day as families come in to select their pieces.
More than 300 pieces of furniture are given away every day at the Furniture Bank
Many families select up to 20 pieces of furniture on their visit.
The average family receives up to $1,400 worth of goods from the Furniture Bank.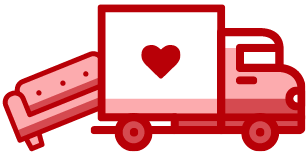 Our Mission Is #MoreThanFurniture.
A furnished home means hope, comfort, and stability to a family in crisis.
What Our Families Need Most Right Now:
Mattresses (especially twins & queens)
Box Springs (especially twins & queens)
Dressers
Kitchen Tables & Chairs
Couches
Coffee Tables
The need among our community's families is rapidly growing. To collect an increased 80,000 pieces of furniture this year, we need more help than ever before. You can help by simply donating a piece of furniture.
Turning Empty Houses into Homes Requires Lots of Support.
We believe our mission is to turn empty houses into homes of hope. Since 1998, many individuals and organizations have partnered with us to deliver furniture to 70,000+ central Ohio families in need.